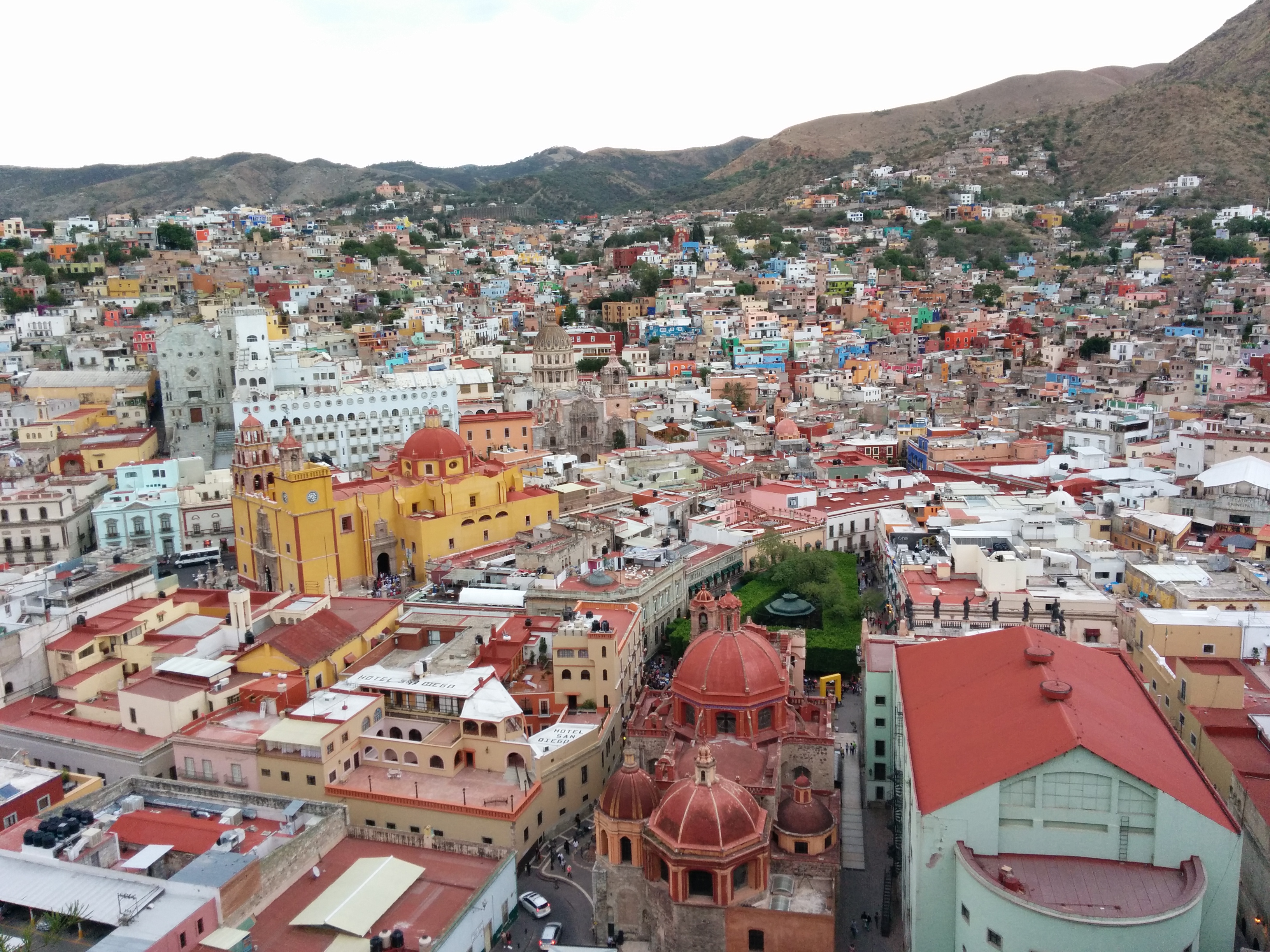 Nobody speaks English here. Nobody means nobody.The 300 or so English speaking expats don't count. Even they don't like being singled out. Guanajuato is so cool, everybody wants to be a local. So everybody walks almost everywhere, as wikipedia has told you already. Guanajuato is a walking town, built in the valleys and on the sides of canyons. 99% of the houses are in alleys and boy are they colorful. Most of these alleys are steep, some are very bloody steep. In the beginning we had to take a break every 10 minutes to reach our rental home on top of the hill. Our local friend, the mountain goat of a girl, took no break, wore heels and mocked us while we panted and caught our breath.
So how was this lovely city built? The Spanish people came, realized that there was buttloads of silver here, so they planted themselves, did a lot of stuff that will bring tears to your eyes and used some extra money for architecture. Why you ask? Because thats what they liked. So what they made is still what you see around in Guanajuato - elegant mansions, handsome churches and gorgeous plazas. Our favorite plaza- Plaza San Fernando. A random bunch of middle to old age couples dance there, for their own entertainment, every Friday. When we saw it, we declared that Mexicans know how to live, Indians don't.Guanajuato is the opposite of Noida, a city we love to hate. You can walk everywhere, but thats not what we like. We love that people actually DO walk everywhere. You walk past people going for a stroll, returning from work, or even returning on foot from a local concert of which there are many.
The city is made up of a zillion little curvy streets and alleyways, and we still get lost here after actually living there for couple years. There are no straight roads in the entire town, and nothing runs in parallel either. You will see tunnels everywhere. In fact, most often you will need to park your car in the side lane of the tunnel. These mysterious tunnels were used to divert the river which dried up long time back. Now the traffic goes underground in the tunnels while most of the city is cobblestoned and is used by pedestrians. Our calves were strongest when we were there. Now, since we are undiplomatic and don't have filters we need to tell you what our immediate impression was. This- its a land of short men and big hats;) . But the people are terribly nice. We had trouble making fun of them as we spent more time here. This was also the first time we saw square manicured trees. And benches under so many trees. Seriously, Mexicans know how to chill.
Despite( and this is a gigantic "despite") the incessantly barking dogs, the city is charming and will make you feel giddy with all its colorful houses and friendly Spanish speakers. Life is simple and family, food and church are extremely important. Churches are sometimes filled to capacity and then some more. Which is the opposite of what happens in Montreal. Sitting in the mini bus, going in and out of tunnels, wafer-thin streets that went up and down like rollercoasters, we often wondered if this was the most surreal cities we had ever been. And we mean surreal in a good way, not in a Las Vegas kind of way.